Cointree allows you to quickly and easily withdraw funds to your bank account:
Step One
To withdraw AUD, click on the "Wallet" tab, then select the "Withdraw Cash" tab.

Note:
Before you can withdraw AUD, you need to first link your bank account to your Cointree account. This is a one off process that is generally done as part of setting up your account with Cointree. If your account has not yet been linked, you simply need to make an AUD deposit. In most cases the account linking process is instant and will happen as soon as your first deposit is processed.

Step Two
Enter the amount of AUD you would like to withdraw. You can see your total available balance of the AUD under 'Available'. Clicking the available amount will enter the full AUD amount available. You can also enter the specific amount you want to withdraw, it just needs to be less or equal to the total amount displayed.
In the example below, you can see that the account currently has $107.68 AUD available.
Once you have entered the amount you would like to withdraw, click the confirm button to proceed with the withdrawal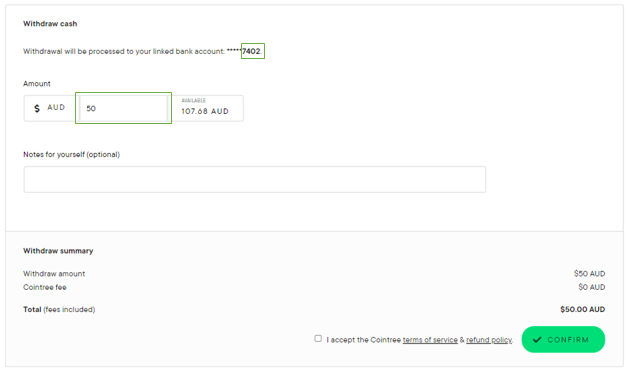 Note:
If you hold crypto on your Cointree account that you want to withdraw as AUD, you first need to sell some of your crypto, which will convert it into the equivalent AUD balance. Once you have an AUD balance you can then withdraw it to your bank account.
Please ensure the last 4 digits of the account number as displayed on this screen match your bank account.
Are there any fees for withdrawing AUD?
AUD withdrawals from Cointree are free
How long does it take for the funds to arrive in my bank account?
Most withdrawals will hit your bank account within minutes of confirming the withdrawal in cointree, however, some withdrawals can take 1 - 2 business days to process. See below for a more detailed explanation:
Cointree AUD withdrawals support the real time payment technology (NPP). When you make an AUD withdrawal from Cointree, our system will always prefer NPP to send the funds, meaning that in most cases the funds should show up in your bank account within seconds of the withdrawal being processed in Cointree. However, if your bank is unable to facilitate the NPP payment our system will process the withdrawal as a non-NPP online transfer instead, which will take 1 - 2 business days to clear in your bank account.
While the majority of our withdrawals are processed in near real time using NPP, the following scenarios will generally result in a 1 - 2 day clearing time:
Your bank or bank account type does not support NPP payments
The transaction size is larger than your bank will allow for a NPP Payment
Are there any limits for withdrawing AUD from your Cointree account?
Standard withdrawal limits apply, which are $100,000 AUD per day.
You can apply for higher account limits by contacting support