It has come to our attention of potential scam websites and social media accounts intending to imitate and mislead Cointree customers.

Scammers use these fake sites/accounts to try to steal your personal information and/or cryptocurrency.
Please report any unverified websites and/or social media accounts to our customer support team, and/or the relevant social media platforms support team.

We ask that our customers remain vigilant and always double check the details of the website URL (www.cointree.com) or making sure they are using one of Cointree's official social media channels as shown below.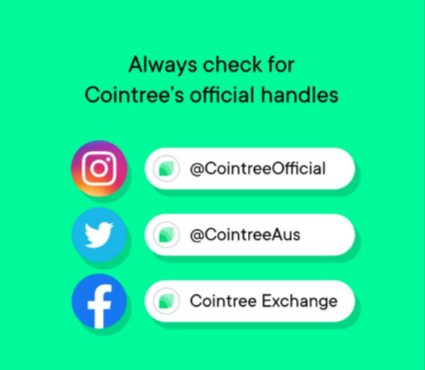 What to do if you think you're involved in a scam?
If you have any uncertainty about something or if it doesn't quite seem right, we highly recommend checking https://www.scamwatch.gov.au for further advice on the warning signs of scams.
You can also reach out to our friendly team for assistance by clicking here.
In addition to being vigilant to scams, it's important to keep your account secure.
Read our account security tips.

Kind regards,

The Cointree Team